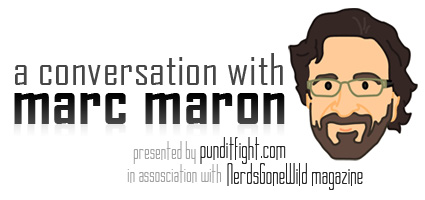 PunditFight presents 'A conversation with Marc Maron'
Australians will be in for a treat this coming April as APF Pundit Marc Maron will be visiting our shores. Maron will be performing
several dates at the Sydney Comedy Store
.
Meanwhile as we await his arrival, I had the pleasure of interviewing Marc. He touched on various subjects from politics to Reality TV. Marc also spoke candidly about his previous and only experience in Australia, where he was sent home after bombing disastrously performing in Melbourne 1992.
You can
listen and download a sample of the interview here
. Marc talks about punditry and where he fits in it. He comments on some of his counterparts and peers from Bill O'Reilly to Al Franken. He also talks about Barack Obama and the idea of the 'symbolic president'.
Listen to the Marc Maron interview here
Maron on Comics and Punditry
MARC MARON: If art is suppose to be nothing more than disguised self help or some example of leadership in terms of making people feel better about themselves then I don't know. I don't have a real problem with Dane Cook, I do have problems with people who are just blindly confident without any real bearing and that's really the only gift that they give.
Pundits it seems, there's a lot of time to waste on television and there are a lot of people with monied interests who like people to waste that time for them so they can sell other things and it just seems that all it does is give relatively uninspired loudmouths the podium to blather on and on about bullshit that has no bearing on anything and only serves to confuse real issues and distract people from making up their own fucking minds hard enough for them to do anything.
Maron on being viewed as a Pundit
MARC MARON: No, I'm not a pundit. I was put in a position to educate myself and become more partisan than I probably would be publicly otherwise, more educated than I would be and I'm grateful for that. But on either side of the political spectrum whether its right or left you have bullshit and you're going to become a distributor of whatever's side bullshit you tend to align yourself with. So my issue has always been to figure out what my gut instincts were on what's happening. Where's the hypocrisy? And what would best serve me and other people.

So the one element of being a pundit I didn't like, was sort of being in the position to be partisan and righteous in ways I may not have thought through completely or in ways I didn't find were completely authentic just because I had such resentment towards the other side.
I will be posting more snippets in the future. You will find the complete transcript on the upcoming issue of
NerdsGoneWild Magazine
(Issue #2). Found in Australia and internationally, check the site for shop listings or you may also buy
here
. Expect to find the full Audio in due time on the NerdsGoneWild website.
Marc will be performing at the Comedy Store in Sydney, beginning Tuesday April 15 and ending Saturday April 26. For full details go to the
Official Comedy Store Website
- Go to
Marc Marons's official website
- Read a more comprehensive Maron interview
transcript here