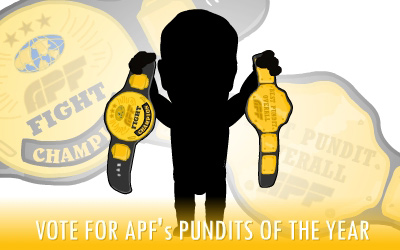 Vote for APF's 'Pundit of the Year'
Just letting you guys know that this blog won't be updated for over a week as i'll be taking a well deserved trip. With that, I'll be leaving with you a nomination form to vote for the top pundits of 2007.
The 4 award categories are:
1) Heel Pundit of the Year
A 'heel' is a person we love to hate. The 'best heel' award will go to the pundit who engenders the most passion from detractors. This pundit sets message boards and blogs aflame in debate with their divisiveness.
Read
previous Heel posts here
2) Face Pundit of the Year
A face is a heroic figure, someone you look up to and root for to win. This person gets gushing praise in the blogosphere and the media. Their mere presence spikes up readership and ratings. They enjoy bi-partisan warmth and praise.
Read previous "Face" posts
here
3) APF Fight Champion of the Year
The 'Fight Champion' belt goes to the pundit who is the most effective at opposing fellow pundits and other notable people of influence. For maximum points the Pundit should be challenging opponents who are more than capable of defending themselves. The award is not based on how many duels they win or lose, but rather the competitive fighting spirit in them.
4) Best Overall Pundit for 2007
This Pundit encompasses all aspect of the first 3 awards. They are popular, well-known and successful. They enjoy loyal support from their audience, but they are also so relevant and consequential that they can be subject to controversy and criticism. This pundit must also enjoy being on the offensive as well as being fully capable in defending themselves when under fire. They have great
aura
and charisma.
You can vote on your favorites by commenting below. Each nomination gets a point, with a heavier weighting given to those who provide compelling arguments in support of their nominated pundit. You can nominate any opinion maker you like, they don't need to be a member of the APF.
While you're at it you can vote for the APF itself, for the '
Blogger's Choice Awards
'.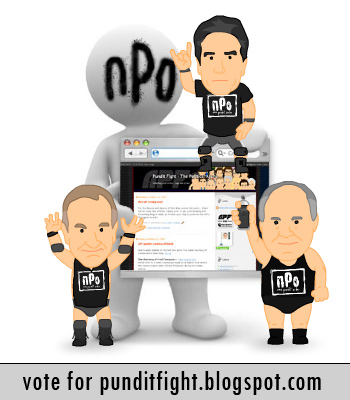 Vote for 'Punditfight.blogspot.com'
See the roster of APF pundits