The mother-of-all Primaries is coming up this Tuesday. Up until now primaries have been held one state at a time with roughly a week's separation between each. On February 5th, dubbed 'Super Duper Tuesday', the Republicans and Democrats will be hosting primaries in up to 24 states with close to half the delegates up for grabs.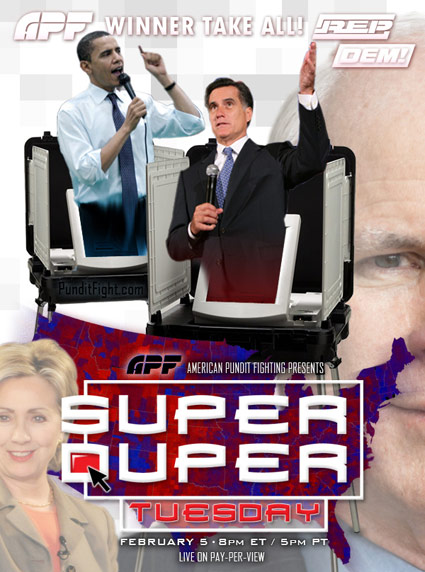 Super Duper Tuesday | February 5, 2008
(Taboo Tuesday)
Here is the Poster for Super Duper Tuesday (yes it's released early for once). The rundown of the card is as follows:
Iron Man Match
Barack Obama VS Hillary Clinton
Its now a 2-man race. 2004 Democratic runner-up, John Edwards withdrew his bid for the presidency after Florida. Edwards' departure will provide a clearer glimpse on where Democratic voters stand on the two front runners, Barack and Hillary. Barack has won twice, taking Iowa and South Carolina. Hillary has won four times taking New Hampshire, Nevada, Michigan and the all-important Florida giving her valuable momentum for Super Duper Tuesday.
This Iron man match will test the mettle of both candidates. After its all said and done we will know which person has the stamina and appeal to take the Democratic nomination.
Triple Threat Elimination match
John McCain VS Mitt Romney VS Mike Huckabee
Florida took an even bigger scalp from the GOP field, former Presidential frontrunner Rudy Giuliani. After his failed gamble on Florida, Giuliani's withdrawal from the race should open up the GOP. Huckabee and Romney have each had victories, but its John McCain who has all the momentum with wins in New Hampshire, South Carolina and Florida.
The triple threat elimination match will most likely eliminate one of these candidates and possibly reveal the GOP nominee.
Read more about Super Tuesday at the
PBS' "Vote 2008" minisite
Read
about Giuliani forfeiting his Presidential bid and who he's endorsing.
Watch the Video.
Read
John Edward's stepping aside "so that history can blaze its path".
Watch the video
.