As per tradition, here is a wallpaper for the upcoming GOP primary in Michigan. To look at the previous wallpaper go
here
.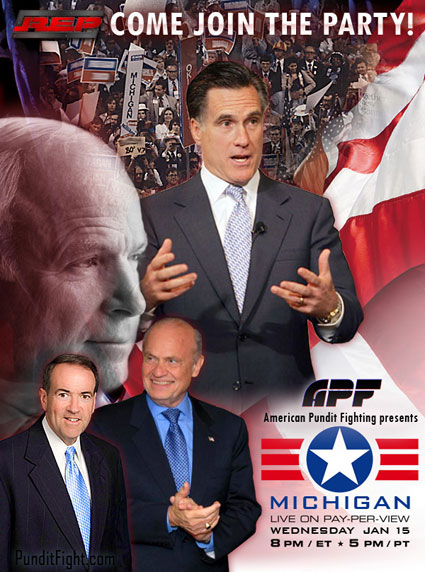 Michigan Primary | January 15, 2008
(Great American Bash)
The card is as follows:
January 15, 2008. The Michigan GOP Primaries
Buried Alive Match
Fred Thompson Vs Mitt Romney
This is a must win for both candidates, The Buried Alive Match will literally change the direction of the candidate's campaign. If Fred loses he will need to consider leaving the race or stay simply to soften up the others. If Romney loses he will need to question whether this endeavor is a worthy investment. Either way, the loser is on borrowed time.
Money in the Bank match
Mike Huckabee VS John McCain
The Champion of the Iowa Primary, Mike Huckabee meets the Champion of the New Hampshire Primary, John McCain. The first person to grab the suitcase at the top of the ladder will have an enormous amount of momentum going forward. If both fail, they face a spirited and long GOP nomination that will go the distance.
Punjabi Prison Match
Ron Paul VS Rudy Giuliani
Both candidates are popular leaders. Giuliani has the strongest name ID amongst the conservative field and has been widely tipped to win the nomination. His strategy of sitting out the early primaries has kept him absent from the media narrative.
Ron Paul enjoys popular enthusiastic support. A hit online and fundraising more than any other GOP candidate. Despite this both have been lackluster in their placings for the last two debates. Both will have to climb out this funk and over the wall if they are to contend for the nomination.