Here is a PPV poster for the upcoming New Hampshire Primary. A posthumous poster for the Iowa PPV will be coming shortly.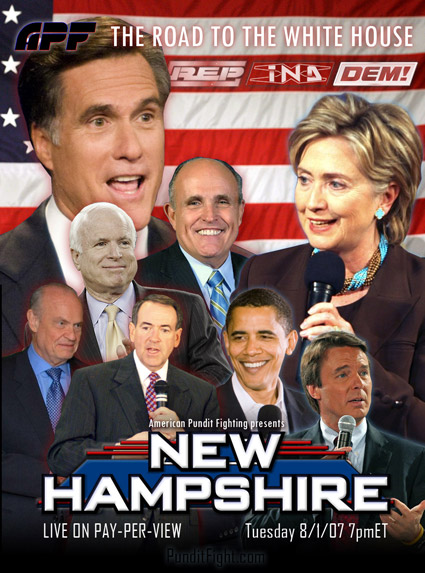 New Hampshire | January 8, 2008
(Wrestlemania)
The card is as follows:
January 8, 2008. The New Hampshire Primaries
2-on-1 Handicap match
Mike Huckabee and John McCain VS Mitt Romney
The Iowa winner, Mike Huckabee teams with surging veteran, John McCain. Both taking on Pundit favourite Mitt Romney. It started with smear ads and will to ahead tonight in New Hampshire. This is personal!
Last Man Standing match
Fred Thompson VS Ron Paul
This is an important match for Fred. If he doesn't place well, he will have to compete in an "I Quit Match" in the next primary. Ron Paul needs to finish here positively to remain in the championship mix.
Triple Threat Match
Barack Obama VS Hillary Clinton VS John Edwards
This is a rematch of the match in Iowa. The person who wins this match will challenge the Democrat of his choice in the next Primary. A poor showing here could spell doom for the Edward's or Clinton candidacy.
This is is just a bit of fun. Whilst its in the spirit of the APF, I don't want people to think that we at the APF don't take politics seriously.
Find out more about the Candidate's involved in the New Hampshire PPV:
Hillary Clinton
John Edwards
Rudy Giuliani
Mike Gravel
Mike Huckabee
Duncan Hunter
Dennis Kucinich
John McCain
Barack Obama
Ron Paul
Bill Richardson
Mitt Romney
Fred Thompson