Due to some computer issues at PunditFight HQ, we weren't able to organise a PPV poster as is customary before a major Primary. However the poster will be coming soon, so stay tuned.
In the meanwhile you can view the old posters here:
View the New Hampshire
PPV poster
View the Michigan
PPV poster
Updated: Posters added Jan 25.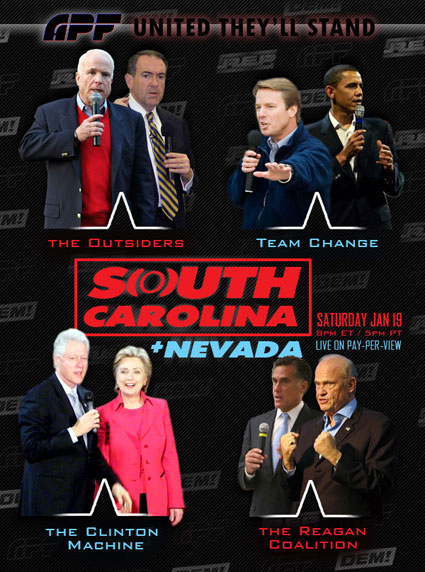 South Carolina + Nevada, Republican primary | January 19, 2008
(Survivor Series)
Now let's move onto the South Carolina and Nevada PPVs:
With 3 different primary winners for the GOP and 2 different winners for the Democrats. The upcoming primary will be 'Survivor Series' rules with each candidate pairing with a like minded peer to hopefully eliminate the others and improve their standing.
The Republican primary is taking place in the Palmetto State, South Carolina.
The Outsiders

(Mike Huckabee & John McCain)

VS The Reagan Coalition

(Mitt Romney & Fred Thompson)
McCain and Huckabee are two candidates gaining popular support amongst the masses and the media but shunned by the Conservative establishment and pundit class. Romney and Thompson have positioned themselves as Republicans who will lead in the grand tradition of Reagan. Both teams will face off with competing ideas ideas for the future of the Republican party.
A win in the South Carolina primary would be a big boost to every campaign but particularly crucial to Mike Huckabee and Fred Thompson. Huckabee needs to win to show that his Iowa caucus win was not a a fluke and to prove that he can win in a general primary. Thompson needs to win if he is to be taken seriously. If he can't place well in his "own backyard" he will have to consider forfeiting his presidential run.
The Democratic primary is being held in Nevada.
The Clinton Machine

(Bill & Hillary Clinton)
VS Team Change

(John Edwards and Barack Obama)
The Clinton brand name plans to roll on through Nevada. After her surprising New Hampshire win, the Clinton juggernaut hope to snuff the 'change' movement early by winning Nevada. Hillary is flanked by her Ex President husband, Bill Clinton. Bill has been instrumental, standing outside the ring with a trashcan full of all manner of foreign objects. Striking at Obama and Edwards on behalf of Hillary whilst the refs have been distracted.
Obama still enjoys popular support but needs to beat Hillary who will only get more unwieldy with each primary win. John Edwards needs to notch a win in Nevada if he is to be taken seriously as a Presidential contender.
Follow the campaign on PBS Newshour's
Vote 2008 site
Listen and Download
the analysis of Shields and Brooks. Particularly as they touch on the GOP field and Bill Clinton's role in the democratic race.
Transcript here
.